ABOUT Montana
Capital: Helena

State abbreviation/Postal code: Mont./MT

Nickname: Treasure State

Origin of name: Based on Spanish word for "mountainous".


Briefs on Montana: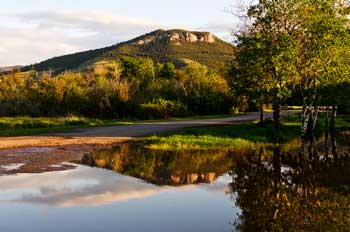 Located in the western United States, the inland state of United States of America, Montana is the land of spectacular mountains and plains. The state is a popular vacation destination. The charming scenic beauty, the worth- watching wildlife, grand museums, pulsating cultural events and nightlife, numerous activities such as hiking, fishing, mountain biking, snowballing and delectable cuisine account for Montana being a delightful place for people of all ages.
With a land area of 381, 156 square kilometers Montana shares its boundaries with Canadian Provinces of British Columbia. Alberta and Saskatchewan, North Dakota, South Dakota, Wyoming and Idaho.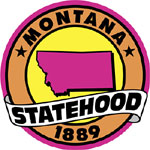 The history of Montana can be traced back to the time when Native Americans became first inhabitants of the region and there were different groups governing over their separate areas.
At the end of the year 1850 gold and copper were discovered in the state. Due to this and the Lewis and Clark expedition that had taken place prior to it, on 26th May 1864 Montana became a territory of United States. On 8th November 1889 Montana was declared the first state of United States.
In 1867 the territory of Montana known as the Montana Territory or Fort Shaw (after the Colonel Robert G. Shaw) was established. The territory is located west of Great Falls in the Sun River Valley. In 1865 it served as one of the three posts built by Congress.
Gradually the development process commenced in the territory. In the field of education a new and big step was taken by the foundation of the Fort Shaw Indian Industrial School in 1892. In 1908 the Sun River Irrigation Project, west of Great Falls was opened for homesteading.
Like other states, Montana too was deeply affected by the Second World War. Numerous Montanans fought for their country while many others emigrated to West Coast for good job offers in the war industries.
In 1950 the government constructed the Glasgow Air Force Base in the state.
Gradually the state started recovering from the war tragedies and in some years Montana integrated into the national and international economy. Montana's journalism and tourism industries progressed to a considerable level.
The year 1970 brought several political changes in the state. The new constitution was drafted and passed into law by a referendum with little chances of victory. The new constitution Montana acknowledged the rights of tribal people and rights of citizens in a better way.
At the end of 1980 and beginning of 1990, Montana and the interior northwest confronted a regional depression. As a result the state's politicians cut government programs and taxes.
In the new century Montanans are slowly recovering from the regional depression and seeking growth and development in all the relevant sectors.
More links about Montana