ABOUT Arizona
Capital: Phoenix

State abbreviation/Postal code: Ariz./AZ

Nickname: Grand Canyon State

Origin of name: Spanish interpretation of "arizuma," anAztec Indian word meaning "silver-bearing." Also based on Pima Indian word "arizonac" for "little spring place".


Briefs on Arizona: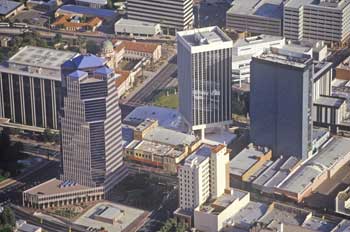 Arizona is one of the Four Corner states and is located south and east of the Colorado River. Spread in an area of 295,254 square kilometers, the sixth largest state in the region, Arizona borders New Mexico, Utah, Nevada, California, Colorado and Mexico.
Known for its diverse landscapes, Grand Canyon, beautiful desert sunsets, majestic mountain ranges, cool pine forests with changing seasons, swift rivers, peaceful mountain streams, colorful meadows and massive canyon lakes, Arizona is a spectacular and unforgettable place.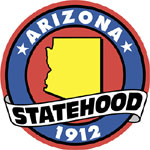 Regarding the origins of Arizona it is said that in 1539 Marcos de Niza, a Franciscan explored the place. In 1540-42 while searching for Cibola, Coronado's expedition entered the area. During 1690 and early 1700 father Kino developed a chain of missions and preached Indians Christianity in the Pimeria Alta region. In 1752 Spain established a fortified town at Tubac and in 1775 at Tucson. In 1810 Mexico demanded its independence from Spain and resulted in Arizona becoming a part of the northwest frontier.
In 1848 the termination of Mexican-American war that was fought between the United States and Mexico from 1846 to 1848 resulted in Arizona being occupied by the United States of America. Prior to 24th February 1863 when Arizona was organized, it was administered as part of the Territory of New Mexico. On 25th February 1881 phoenix, the present capital and largest city of Arizona was incorporated as a city. Located in central Arizona phoenix is the largest city and largest metropolitan area by population.
There were several options for the name of the territory such as Gadsonia, Pimeria, Montezuma, Arizuma and Arizona. Each proposed name had some grounding and significance but when President Lincoln signed the final bill, it read Arizona and so the state got its permanent name.
In the late 19th century Brigham Young sent Mormons to Arizona. They laid the foundation of towns like Mesa, Snowflake, Heber, Safford and several others. They even settled in the region of Phoenix Valley, Tempe ad Prescott.
On 14th February 1912 Arizona was categorized as a state of United States of America. Arizona was the 48th state admitted to the American territory and it was the last admitted contiguous state as well.
The economy of Arizona suffered a great setback during the Great Depression. However in 1920 and 1930 Arizona experienced an unprecedented boom in its tourism industry. As a result the lodging and other tourist facilities were amended to a great extent during this time.
During the Second World War Arizona was the site of a German and Italian prisoner of war. After the war the state witnessed a remarkable rise in its population. This rise was due to the development of the air conditioning system that made grueling summers tolerable for people.
Over the years Arizona progressed in various sectors. The state's economy grew stronger and there were several other developments for instance the development of the retirement communities in different corners of the state to assist the senior citizens etc.
More links about Arizona