ABOUT Virginia
Capital: Richmond

State abbreviation/Postal code: Va./VA

Nickname: The Old Dominion

Origin of name: Named for England's "Virgin Queen," Elizabeth I.


Briefs on Virginia: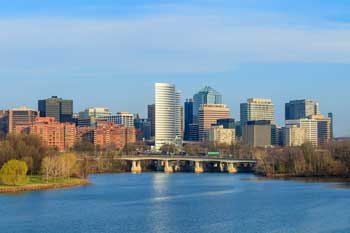 Virginia, one of the most historic states of the United States is rich in natural beauty and worth visiting sites and attractions. The state is named after the Queen Elizabeth I of England and is one of the original thirteen states of the United States that stood against the British domination in the American Revolution.
The state was under the control of Native Americans for a while. The main people among them were the Cherokee, Chickahominy, Mattaponi, Meherrin, Monacan, Nottaway, Pohick, Powhatan etc. the largest group of people was the Algonquian after which came the Iroquoian and the Siouan.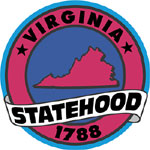 The state got its name in 16th century when the land was explored by the Sir Walter Raleigh in his expedition. Queen Elizabeth termed the entire land explored by him from coast of North America to whole coast of South Carolina and Maine as Virginia.
Before 1698 Jamestown was the capital of the Virginia colony. But after the State House got burned in 1698 the capital got was shifted to Middle Plantation that had acquired the name of Williamsburg in the honor of King William III, the William of Orange. At the time of Restoration, King Charles II of England named the colony of Virginia was named "the Old Dominion".
The colonial capital was again changed and moved to Richmond in 1780. This happened at the request of the then Governor Thomas Jefferson. Patrick Henry was the first governor of Virginia.
On 29th June 1776 the constitution that accepted Virginia as a commonwealth independent of the British Empire was adopted.
During the American Civil War Virginia was one of the states that seceded from the Union to become the Confederacy. As a result some counties were separated. The land of Virginia has witnessed maximum battles as part of the American Civil war.
On 26th January 1870 Virginia rejoined the Union formally after a term of military rule after the war.
The capital of the state is Richmond till date. Richmond has turned into a beautiful city that offers several attractions such as the Bell Tower, Bell Isle, Canal Walk, Maymont Park etc.
The northern part of Virginia is a perfect mirror to the state's glorious past. The homes of great personalities such as George Washington, Thomas Jefferson, George Mason, James Monroe, Robert E. Lee etc. are a informative and nostalgic sites worth visiting. Northern Virginia is currently transforming into hub for technology and Internet business.
The southern part of the state presents nature at its best. From crystal clear beaches to Blue Ridge Mountains and the Shenadoah Valley, this part of the state has it all. Along with these a variety of entertaining activities offered here make a visit to this part of the state worthwhile.
More links about Virginia