ABOUT Nova Scotia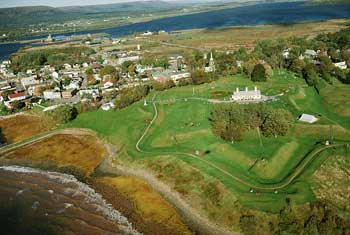 Located on the southeastern coast of Canada, this Canadian province of Nova Scotia is a beautiful region dominated by water. Water not just makes up for the beauty and grandeur of the place but also provides a strong link between the history and culture of the province.
The attractions of Nova Scotia are its extensive coastline and a variety of activities along its side such as ocean kayaking, whale watching etc. Along with it the province boasts of some wonderful cities that are rich in scenic splendor, historic sites and other lures.
The capital city Halifax is one of the world's ideal ports for small ship cruises in Canada. With a city area of 79.2 square kilometers and municipality area of 5,490.90 square kilometers, Halifax is also the largest city in the province.
The city greets its visitors with a 400 kilometers long and dramatic coastline, white sandy beaches and one of the world's largest natural harbors. Though most of what the city offers is associated with water but the cultural events and traditional ambience of the place try to maintain a balance.
With best-suited business meeting accommodations and amenities, delectable cuisine and great music, colorful markets and thrilling nightlife Halifax is a world-class place for business and pleasure. The Halifax Regional Municipality is an international urban center with a rural status. The center is full of life and activity. Few miles away from the center are the small coastal villages, country charm and wilderness that best characterize the province of Nova Scotia.
With a mere area of 55,284 square kilometers and approximate population of 937,889 Nova Scotia is the second smallest province and also the fourth least populated province of Canada.
The province of Nova Scotia has old origins. Around 11,000 years ago Paleo- Indians came to settle in the region. The place also witnessed settlements by the Archaic Indians. It is deemed that Mi?kmaq, the First Nations of the province and region are the direct descendants of these archaic Indians.
In 1497 John Cabot became the first Italian explorer to enter the region. In 1604 the first European settlement in Nova Scotia took place. In the very year a group of French people led by Pierre Dugua, Sieur de Monts established the foremost capital for the colony Acadia at Port Royal.
In 1620 Charles I of England and Scotland a group of Scots to establish the colony of Nova Scotia, also known as New Scotland. But before the colony could be settled the Scots and the French signed a peace treaty. Owing to the treaty the territory was ceded to the French and the Scots deserted the region.
In 1713 the mainland Nova Scotia became a British colony. Samuel Vetch was the governor at that time. Though in sometime Halifax was established as the capital of the province and there were many settlements of the German foreign Protestants yet the region remained mostly Acadian in nature.
In 1848 Nova Scotia became the first colony in British North America and in the British Empire to acquire a responsible government. Nova Scotia was also the first province to claim independence from Canada.
Name
HASC
SGC
Area(Km.²)
Population
County seat
Annapolis
CA.NS.AP
05
3,328
22,324
Annapolis Royal
Antigonish
CA.NS.AG
14
1,401
19,554
Antigonish
Cape Breton
CA.NS.CB
17
2,517
117,849
Sydney
Colchester
CA.NS.CO
10
3,758
49,262
Truro
Cumberland
CA.NS.CU
11
4,359
33,804
Amherst
Digby
CA.NS.DI
03
2,512
20,500
Digby
Guysborough
CA.NS.GU
13
4,172
10,917
Guysborough
Halifax
CA.NS.HL
09
5,343
342,966
Halifax
Hants
CA.NS.HN
08
3,183
39,483
Windsor
Inverness
CA.NS.IN
15
3,649
20,918
Port Hood
Kings
CA.NS.KI
07
2,181
59,193
Kentville
Lunenburg
CA.NS.LU
06
3,028
47,561
Lunenburg
Pictou
CA.NS.PI
12
2,911
48,718
Pictou
Queens
CA.NS.QU
04
2,546
12,417
Liverpool
Richmond
CA.NS.RI
16
1,267
11,022
Arichat
Shelburne
CA.NS.SH
01
2,536
17,002
Shelburne
Victoria
CA.NS.VI
18
2,862
8,482
Baddeck
Yarmouth
CA.NS.YA
02
2,170
27,310
Yarmouth

HASC: Hierarchical administrative subdivision codes.
SGC: Standard Geographical Classification division
code. Prefix 12 to get a four-digit code.
Population: 1996 census.
Canadian Based Sites (Click)